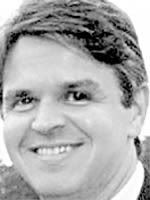 Brian Murphy was a Cantor Fitzgerald employee. He was a husband and a father as well as a Catholic. He died because he was attending a meeting on the 105th floor of the North Tower when American Airlines Flight 11 slammed into the building. That's it. He died because he was there.
There was no greater point to his death than that. He wasn't a politician or a policy-maker. I can't tell you his personal beliefs or his politics. The thing of it is, none of those mattered. He didn't die because of what he thought, or who he was. In a way, you could almost attach some sort of dignity to being killed for those types of reasons. Brian Joseph Murphy died because he was there. He was slaughtered because he, like many others, was an easy target. There's no sense to this. We're not made to understand everything in this life, however. Trying to do so can only lead to madness or despair.
The important thing to remember, I think, is that he was here. He loved and was loved. I'm also pretty sure he disliked and was disliked too; we all are. He was human. Now he is gone and he has left others behind. I never knew you, Brian. I could pretend that I've gotten to know you by reading a few snippets here and there on the internet. That would be a lie; it would be a lie to all those who did know you. What I do know is this: you were a unique soul, and as such you were infinitely precious when you were among us. You are just as precious to those who did know you while you were here. You will forever be infinitely precious in the hands of a just and merciful God. May He have mercy on you.
I generally have little patience for psychiatrists and psychologists, as I am more of the opinion that most emotional pain can be handled with alcohol and stoicism, but I have to admit I admire Brian's wife, Judith. They were married in 1994; that means that soon she will have been without him longer than they had been together. She has memories, and two children to remind herself of him now. I was reading an interview she did for her alma mater and I was struck by how well grounded she was. She has good days and she has bad days. Some times, some events, are harder for her than others. I can almost hear her say, "What do you expect from me? This is life." Our hearts and our souls don't follow neat little preset patterns. The trick is to adjust to each day as it comes. I can only hope that she and her family can adjust, not "from here on out" but daily.
After all, it's only life; we all get through it. We can only wish that Brian wouldn't have gotten through his too soon for his family.
Eternal rest grant unto him, O Lord. And may the Perpetual Light shine upon him.
(This post is part of The 2,996 Project, honoring individually every victim of September 11th.)